Description
Details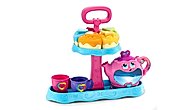 Imagine and Play
Includes everything for a pretend tea party for two! Fill and empty the tea pot, pretend to have cake and listen to playful music.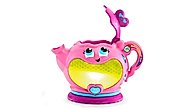 Magical Teapot
Press the heart button to brew a new pot of tea, then lift the lid to change the colour and flavor. Tip the teapot to pour and watch as the teapot appears to empty.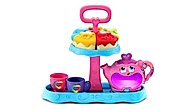 Cake Stand
All the play pieces including the teapot, teacups and five slices of cake fit neatly on the cake stand for storage.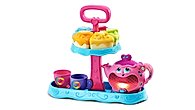 Two Play Modes
Select Music mode and hear nine songs or choose Tea Party mode to play a range of learning activities featuring colours, shapes, numbers and fruit.
Teaches
Skills
Colours
Numbers
Shapes
Sharing
The Learning Difference
"The Musical Rainbow Tea Party™ introduces essential preschool skills through familiar pretend play. As children pour tea and serve pretend cakes, they explore early vocabulary and counting skills while building social skills like sharing, taking turns and patience." – Clement Chau, PhD, LeapFrog Learning Expert
Lights up in 6 magical colours and plays 7 tea-time songs.
It's tea time! Pretend to brew a fresh pot of tea and share a slice of cake with friends while exploring colours, numbers, shapes and fruit.
"The Musical Rainbow Tea Party™ introduces essential preschool skills through familiar pretend play. As children pour tea and serve pretend cakes, they explore early vocabulary and counting skills while building social skills like sharing, taking turns and patience." – Clement Chau, PhD, LeapFrog Learning Expert