Description
The ultimate Maxi Micro Deluxe – for portable adventures with extra glow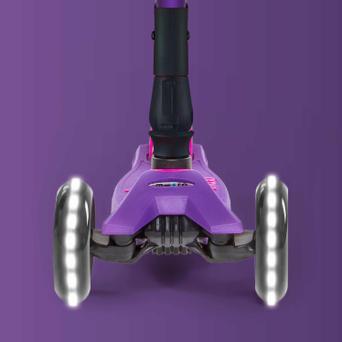 Motion- activated light-up wheels
Lights that are powered by kids. Our ingenious induction powered LEDs are fuelled by the energy kids create as they scoot – producing bright white light to add some magic to every journey and help keep children safe on darker days.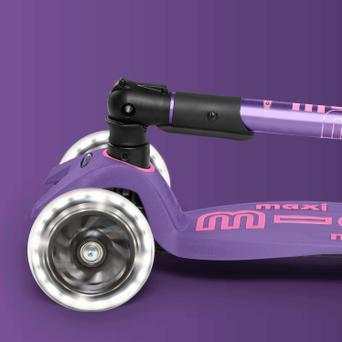 One-click fold
With one click our Foldable Deluxe folds into a lightweight package that can be carried and stored with ease. For hop on, hop off journeys. For clutter free homes. For the freedom to take your Micro anywhere. With zero compromise on the ride kids love.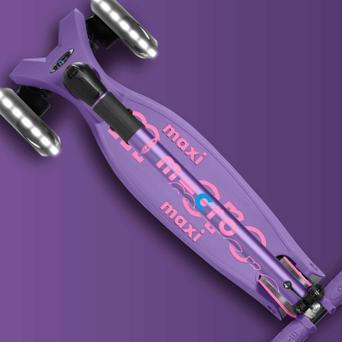 Putting the luxe in deluxe
Induction powered lights that glow as your child goes. No need to replace batteries – ever. Adjustable, colour pop anodised stem for protection against damage. Grippy silicone mouldings on a reinforced fibreglass footplate. The most refined ride in town.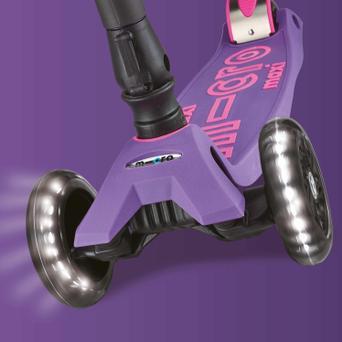 Built to last
Made with replaceable parts to last a lifetime of scooting. Tested to withstand the toughest adventures. Designed to grow and adap
Ultimate Maxi Micro Deluxe – for portable adventures with extra glow
This Maxi Micro from the Deluxe family scores points with two extra features: Firstly, the intuitive folding mechanism ensures that the kickboard can be folded with a simple movement of the hand and stored anywhere. Whether in the boot, under the chair at school or in the locker – there is always room for the Maxi Micro Deluxe Foldable LED. Secondly, the sparkling LED wheels make sure that you can see the kids from a distance, even in the dark. The light is generated by a dynamo mechanism. Thanks to the inductive charging process, no batteries are needed. Furthermore, ABEC 9 ball bearings guarantee highest precision and durability. The illuminated wheels not only look cool but also provide more safety.
Ideal for Getting to school & leisure
Age range 5-12 years
Foldable Yes
Surface Asphalt
Max. load 70 kg
Reviews